Leaks and breaks in the aging US water infrastructure results in trillions gallons of freshwater lost each year in the United States. In this week's roundup we share 10 interesting links that discuss the US water infrastructure issues.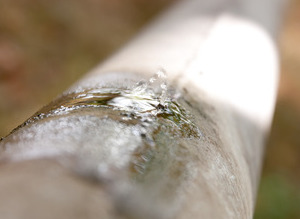 Nation's Pipes Leak Enough Water to Drown Manhattan and Chicago Nextcity.org
"If all of the estimated 2.1 trillion gallons of expensive, treated water that leaks from the country's outdated systems each year sloshed its way to New York City, a 298-foot flood would swallow Manhattan."
Why water conservation doesn't mean lower water rates Marketplace
"Those pipes were put into ground anywhere from 70 to 100 years ago," says AWWA's CEO David LaFrance. "There's massive needs for replacements. We estimate that over the next 25 years it's a trillion dollar problem."
Aging water infrastructure 'nearing the end of its useful life' Midwest Center for Investigative Center
"In 2011, the Environmental Protection Agency estimated that upgrading drinking water infrastructure would cost more than $384 billion."
Los Angeles Pipe Burst A Reminder Of Aging Water Infrastructure In Central Valley CBS Sacramento
"Los Angeles city leaders say the 8 million gallons of lost water that could have supplied more than 100,000 people for a day."
Infrastructure Issues Across U.S. Not an Easy Fix CBS News
"These systems were put in, some of them, as far back as the turn of the century," said Brian Pallasch, a director for the American Society of Civil Engineers. "And it's one of those problems where they're buried, so they're out of sight, and they're out of mind."
The Facts About Sustainable Water Infrastructure United States Environmental Protection Agency
"With regard to piping systems, the 2000 Community Water System Survey found that for drinking water systems that serve more than 100,000 people, about 30 percent of the pipes were between 40 and 80 years old and about 10 percent of the pipes were more than 80 years old."
2013 Report Card for America's Infrastructure American Society of Civil Engineers
"California has reported $39 billion in drinking water infrastructure needs over the next 20 years."
Buried No Longer: Confronting America's Water Infrastructure Challenge American Water Works Association
Over the coming 40-year period, through 2050, the investment needs for buried drinking water infrastructure exceed $1.7 trillion.
America's Water Infrastructure Challenge: Moving from Proposals to Solutions Huffington Post
"Seven billion gallons of treated drinking water are lost nationwide through leaky pipes every single day. That's enough to meet the daily water needs of California."
America's Urban Water Crisis Politico
"In 2013 alone, Houston lost more than 22 billion gallons of water — 15 percent of the city's total water supply — due to leaking pipes. That same year, there were 100 water main breaks in San Francisco."
Study: Bay Area Loses Billions of Water to Leaky Pipes Kcra.com
"A new study of California records shows that Bay Area water providers have been losing about 23 billion gallons of water a year due to aging and broken pipes."
The Art of Water Recovery The New York Times
"The Environmental Protection Agency estimates (pdf) that public water systems lose, on average, one-sixth of their water — mainly from leaks in pipes."
Caution Ahead: Overdue Investments for New York's Aging Infrastructure Center for an Urban Future
"Over 1,000 miles of New York City water mains are more than 100 years old, leading to frequent and disruptive breaks…Since 1998, New York has experienced at least 400 water main breaks in all but one year; in 2013, there were 403."
Aging pipe break points to U.S. water main risk Yahoo News
"There are 240,000 breaks a year, according to the National Association of Water Companies, a problem compounded by stress from an increasing population and budget crunches that slow the pace of replacement."
The Case for Fixing the Leaks: America's Crumbling Water Infrastructure Wastes Billions of Gallons, Dollars The Center for Neighborhood Technology
"In the Great Lakes states, a survey of water service providers estimated that 66.5 billion gallons of treated water is lost each year."