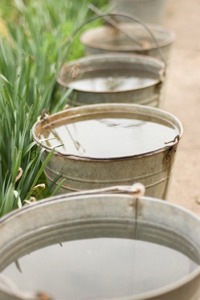 While the world sinks deeper into the dry sands of a global water crisis, many conservationists and water warriors wonder what more they can do to help besides taking shorter showers and using low-flow fixtures.
Money and donations help, too, but sometimes a hands-on contribution is the only thing that will satisfy the desire to help. Since the water crisis is most deeply felt in places other than the U.S. that means those who really want to roll up their sleeves must travel overseas.
Below we take a look at five non-profit organizations that welcome volunteers who are willing to go the distance in an effort to bring hope to the millions who live without adequate access to a clean, sustainable water source. (Please keep in mind some of these organizations only facilitate access to the non-profit organization with a presence in country.)
Projects Abroad is a kind of one-stop shop for volunteers interested in working abroad on all kinds of projects, and many of those projects involve helping build reliable sources of water in developing countries.
There are currently water and sanitation projects that require volunteers in Bolivia and Tanzania, although new projects are added frequently so there is always a great deal of variety for anyone who has a preference on where they'd like to go. With so many places struggling for clean water, though, there are always opportunities to help.
2. Proworld
Proworld is similar to Projects Abroad in that it provides participants with a wide variety of projects from which to choose.
A highlighted initiative taking volunteers now called the Clean Water Project is sending people to the Urubamba area of Peru in the Andes Mountains in an effort to reduce the spread of waterborne illnesses. Those interested can volunteer from 1 to 26 weeks, and while there are program fees involved living expenses are managed while in country.
3. Global Vision International (GVI)
Global Vision International has been providing volunteer opportunities abroad since 1997. Again, GVI provides opportunities in areas from construction to wildlife and terrestrial conservation, and water projects are always on the list of opportunities.
Volunteers can sign up for as little as one week or as long as 2 years with GVI. One example of a current project involves water storage construction in Fiji. Program fees pay for things like training, orientation, meals and more.
4. Quest Overseas
Quest Overseas is currently supporting the WaterRelief program with community development efforts in Kenya that includes improving access to clean water.
One of the greatest things about Quest is that all costs are upfront and every expense is detailed, from standard items like meals and accommodation to all the extras including insurance and activities. This makes it easier to enjoy the volunteer experience as well as learn more about what the contribution means to the community.
5. Omprakash (Water Collective)
Some people would prefer not to pay to volunteer, and one alternative to those types of programs is Omprakash. Omprakash has an established network of international non-profit groups from which to choose that volunteers can work with for free, and Water Collective is one of them.
Water Collective is currently working to bring clean, sustainable water to the people of Cameroon. Volunteers are welcome to contact Omprakash or go directly to the partner – in this case Water Collective – to learn more about volunteering.
Conclusion
Money will always be an important component in the fight to bring clean water to those who need it most, but there is no substitute for your time. Think about volunteering. It will change your life as much as it changes the lives of those you help.