Connect your sensor to a USB port on the computer as shown in the diagram below.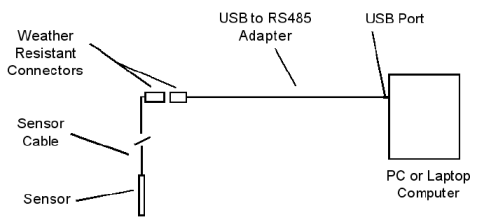 (If you are using Aqua4Plus and want to use an RS232/serial port, see connection options under Alternate Connection Options in the Aqua4Plus Instruction Manual.)
Make sure all cable connections are secure.
Be sure to use Aqua4Plus version 1.9.2 or higher or Aqua4Plus Lite. The newest versions are available on our Software Download page.
If using Aqua4Plus, select USB in the drop-down box on the main window in Aqua4Plus. (Aqua4Plus Lite automatically uses the USB connection.)

Be sure you have installed the USB driver.
Most Windows 7 and Windows 8 computers will automatically go to the Internet and download the proper drivers.
If you have Windows XP, do not have Internet connectivity, or do not want to access the drivers via the Internet, you can install the drivers directly from Aqua4Plus. From the Utilities menu, Advanced options, select "Install USB/RS485 Drivers." Select your operating system, and then click Install. After installation do the following: (1) If the cable was plugged in during installation, unplug it and plug it back in. (2) Close and reopen Aqua4Plus.
Alternately, you can download the drivers from our Software Download page. A copy is also provided on the USB stick or CD that came with your communication packet.
See the application note USB/RS485 Communication Cable Installation Instructions for more detailed information.