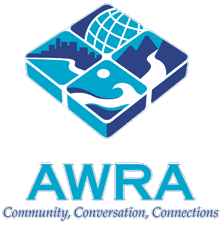 The American Water Resources Association (AWRA) was founded in 1964 at a time in US history when water rights, management and a need for increased resources was literally changing the landscape of the country.
AWRA has stayed true to its multidisciplinary roots since its inception and continues to honor its motto of "Community, Conversation, Connections," as the inspiration of its mission: to create a welcoming forum where people can come together and share ideas and concerns about water resource management.
"The study of water cuts across many disciplines. AWRA attracts individuals who wish to transcend the limits of their own disciplines by exploring water from other perspectives and interacting with others who desire to do the same," stated Michael E. Campana, AWRA President.
The nongovernmental organization (NGO) pursues this mission in several ways, although perhaps most successfully through its dynamic Conference Series that attracts state, federal and foreign government representatives, specialists in a wide array of scientific and other disciplines and even laypeople with an interest in learning more about water resource management. Conferences are also often held at the state level by its 32 state sections or student chapters, which increases more immediate opportunities to personally engage in the management of local water resources.
AWRA's commitment to partnerships has allowed it to expand well beyond the US and it frequently contributes to the improvement of water resources in areas suffering serious water crises. As AWRA approaches its 50th anniversary, it has established a presence in more than 50 foreign nations that helps members around the world network to share ideas and technological advancements across borders. Its recent agreement with the Korea Water Resources Association is a testament to the organization's forward-looking, multidisciplinary approach to water resource management.
Researchers, scientists and specialists of all kinds also take advantage of the NGO's two publications, the Journal of the American Water Resources Association (JAWRA) and IMPACT. Both are peer-reviewed and available to members. The former presents scholarly, applied articles on a broad spectrum of water resource issues, whereas the latter offers short, topical articles organized around a central theme.
For the public, AWRA offers to keep anyone who is interested up to date on the latest organization and water resource management news through its blog, as well as supporting and announcing public speaking engagements, training courses, award opportunities and other ways for individuals to get engaged and play an active role in protecting their most vital natural resource.